Collection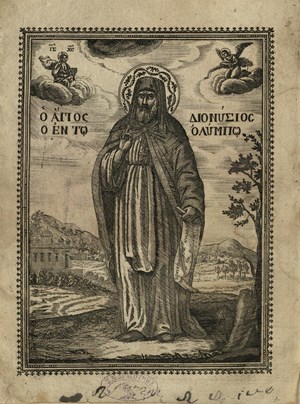 Akolouthia of Dionysios, from mount Olympus (16th c). Ἀκολουθία... Διονυσίου τοῦ ἐν τῷ Ὀλύμπῳ... τοῦ Νέου Ἀσκητοῦ..., Constantinople, Ἑλληνικὸ Τυπογραφεῖο Πατριαρχείου Κωνσταντινουπόλεως, 1816.
Reprint, the first was issued in 1728
Page description:
pp. 30 and 1 full page engraving (p. 2/3 Ag. Dionysios), pp. 1-2 missing, on which the title.
References:
Iliou, 19th c. I, 1816.8