Collection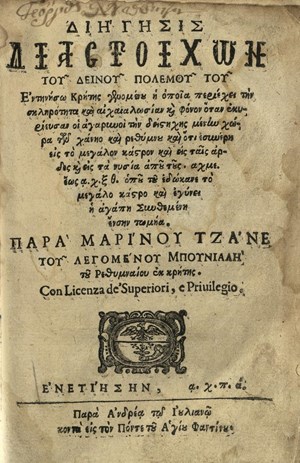 Marino Tzane Bounialis. Διήγησις διὰ στοίχων τοῦ δεινοῦ πολέμου τοῦ ἐν τῇ νήσῳ Κρήτης..., Venice, Andrea Giuliani, 1681.
First edition of the chronicle in verse of the Cretan War of 1669 which ended in the submission of the island to Ottoman rule. This lengthy poem, although emotionally charged, clearly brings out the cohesion of the Greeks.
Page description:
pp. [12]+447+1 blank n p. 447 Andreas Spinelli's monogram.
References:
BH II/2 (565) • PAP Ι, 1456 • ΠΧ, 44 (26)