Collection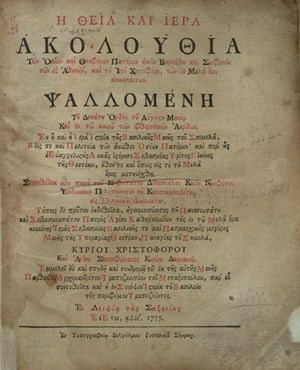 Akolouthia of Barnabas and Sofronios, in Mt Sinai. Neophytos Kavsokalybites. Ἡ Θεία καὶ Ἱερὰ Ἀκολουθία... Βαρνάβα καὶ Σωφρονίου..., Leipzig, Wilhelm Gottlop Sommers, 1775.
Second edition, the first having been printed in Bucharest in 1769.
Page description:
pp. [8]+40+48 and 1 full page engraving (emperors founders of the monastery of Panagia Soumela) and 1 Table (Comnene genealogy) outside the text.
References:
BH III/2 (830) • Ladas - Hadjidemos ΙΙ/1, 130 • PAP Ι, 4376 • Papastratou, 41