Collection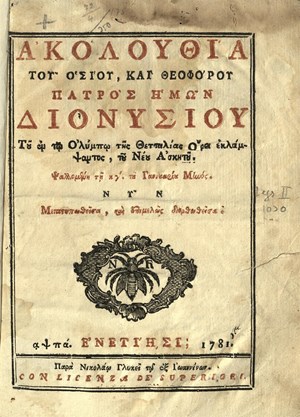 Akolouthia of Dionysios, from mount Olympus (16th c.). Ἀκολουθία τοῦ ὁσίου καὶ θεοφόρου πατρὸς ἡμῶν Διονυσίου τοῦ ἐν τῷ Ὀλύμπῳ... τοῦ Νέου Ἀσκητοῦ..., Venice, Nikolaos Glykys, 1781.
Fourth edition, the first dating to 1728, and the only copy in Greece outside of Mt Athos.
Page description:
pp. 32 (the engraving of Ag. Dionysios missing on p. 2/3).
References:
BH III/2 (1030) • PAP Ι, 118