Collection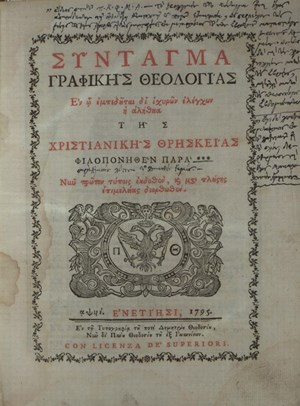 [Anthimos, Patriarch of Jerusalem]. Σύνταγμα Γραφικῆς Θεολογίας ἐν ᾧ ἐμπεδοῦται... ἡ ἀλήθεια τῆς Χριστιανικῆς Θρησκείας..., Venice, Panos Theodosiou, 1795.
First and sole edition in Greek, written by the Patriarch of Jerusalem Anthimos (1717-1808) in Greek and later translated by himself into Arabic, which was again published in Vienna, in 1792, edited by the monk Parthenios from Aleppo.
Page description:
pp. ιβ´+703+1 unn.+4 blank.
References:
Ladas - Hadjidemos ΙΙΙ/1, 249 • PAP Ι, 355